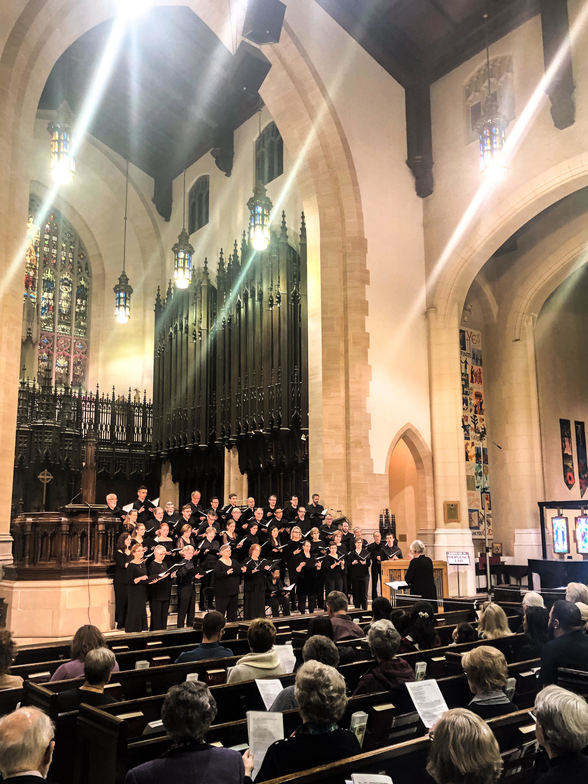 Save to your Calendar
Mozart's Requiem and Vaughn Williams' Dona Nobis Pacem by The Metropolitan Festival Choir and Orchestra, conducted by Dr. Patricia Wright
This year's Good Friday Concert speaks to our seemingly elusive quest for peace in this world of turmoil.
English composer Ralph Vaughan Williams wrote his cantata Dona Nobis Pacem (give us peace) in 1936 between the two great wars. The texts are from the Mass, from poems by American poet Walt Whitman, and from the Bible. Whitman's poems reflect the agony of the American Civil War. The piece is scored for chorus, orchestra, and soprano and baritone soloists.
The Requiem by Wolfgang Amadeus Mozart is probably one of the best known choral works, and Mozart left this setting of the Requiem Mass unfinished at his death in 1791. The best known completion of the work is by Franz Xaver Süssmayer, but his version faced criticism almost immediately. We are using the version published in 1971 by Franz Beyer who thoroughly researched the various versions and Mozart's own sketches.
Dona Nobis Pacem by Ralph Vaughan Williams
Requiem by Wolfgang Amadeus Mozart

Soloists: Gisele Kulak, Chelsea Van Pelt, Valeria Kondrashov, Charles Davidson, Nicholas Higgs, John Schneider Metropolitan Festival Choir and Orchestra, conducted by Dr. Patricia Wright