après Church
Sundays following Worship on Zoom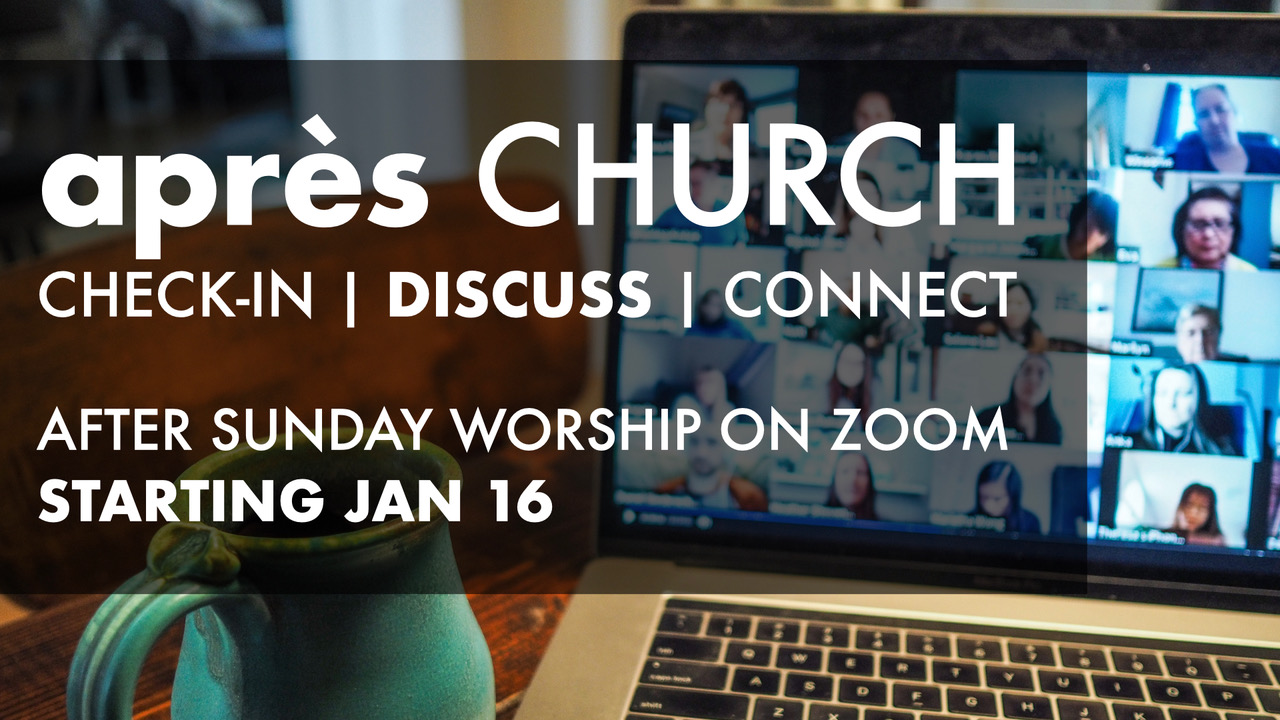 Join us after worship for après Church, a chance to check-in as a community and explore a discussion topic every week. Find the joining link here, or in the chat windows during service. This Sunday: "The Five Year Plan and Metropolitan"
après Church
Children & Youth Ministry
Online Programs for Kids
Come out to Zoom Sunday School at 10:30am each week! Then on Thursdays, join Alana for a Kids Bedtime Story; a short, informal time to read a story together to wind down for the night. Plus, keep an eye out for Family, Faith & Fun Friday Nights at the end of the month: Virtual Trivia! is on Jan. 28.
Met's Children's and Youth Ministries are led by The Rev. Alana Martin.
Confirmation
If you or your teen are interested in being confirmed this year, now is the time to register! This is a great opportunity for young people to explore their faith further and discern how they want a church and faith life to be a part of their lives. Email Alana (alana@thegoproject.ca) to find out more and to register. We'll meet the last Sunday of the month from 4-5:30pm, January – April, and for a retreat May 28th – 29th.
Zoom Sunday School
Kids Bedtime Story with Alana
This Winter at Met
We Are Currently Offering Online Worship
Sunday worship at Metropolitan is livestreamed from the Sanctuary begining at approximately 10:45am on YouTube, Facebook and here at metunited.ca/live. Zoom Sunday School takes place each week at 10:30am for children and youth, and we also offer children's programming throughout the week online.
Met has a proof of vaccination policy in place for in-person worship services, when offered. More info here.
Our ministry continues during these challenging times. We are grateful for your support - you may choose to donate at metunited.ca/donate, mail an envelope or cheque to the church, or give by etransfer (donations@metunited.ca). Thank you!
COVID Updates
Spring Carol
In Memory of former Met Choir member Lucy Carrick
Noon at Met Recitals
Subscribe on YouTube for Free Concerts - Stay Tuned for 2022 Dates!
Noon at Met Concerts
The Rev. Jason Meyers: Minister of Worship and Faith Formation
A Message to the Congregation
We are pleased to announce The Rev. Jason Meyers as our Minister of Worship and Faith Formation. A Covenanting service took place on October 24, 2021 after Jason formally entered the role on September 1. Thank you to the Search Committee for their dedicated work over these last two years. We look forward to bringing our best to ministry with you, Rev. Meyers.
Please watch Jason's message from our service on September 12.
Stay up to date with the Met Connect newsletter
Weekly worship, event & programming news
Met Pride
Brave (Sara Bareilles)
Download the Met App!
Available on Apple & Android devices
"There's an app for that!" You can follow our programming, watch the service, register for events and much more through our church app. Use your phone or tablet to download the app through the link below, or learn more on our news page. See you there!
More Info
Download App