We are an affirming ministry of the United Church of Canada. We affirm that we are all God's beloved children, inclusive of age, ethnicity, gender identity, ability and sexual orientation. We all belong, and are all celebrated.
Rural Life Sunday: May 22 at 11AM
"The Good Seed"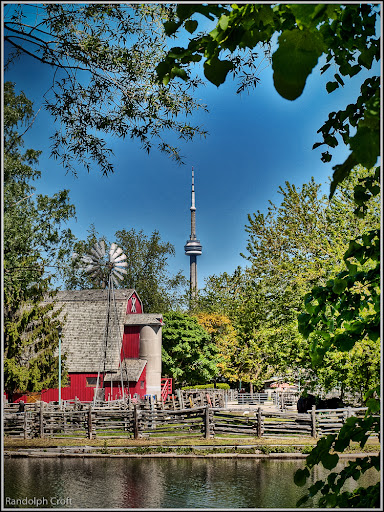 In looking at the first creation story in Genesis, we see an integrity and harmony to all that God creates - so much so that God calls it all "very good." In this week's sermon "The Good Seed," Rev. Meyers explores what happens when we become disconnected from creation, and what lessons we might be able to learn from the wisdom and resiliency of seeds.
Photo: The Farm - Toronto Islands by Randolph Croft | © Creative Commons
Service Info
Livestream
Wild Church at Riverdale Farm
Sunday May 22 at 1PM, Rain or Shine
Come out to this month's edition of Taddle Creek Wild Church at Riverdale Farm (201 Winchester Street) for a time of nature-based reflection and prayer.
Learn More
Noon at Met May 6
Final concert of the season
A quintet from the Metropolitan Silver Band presented Solid Silver under the direction of Fran Harvey. A delightful programme of brass quintet music covering a broad range of styles including Renaissance Dances, well-loved classics and folk melodies, and even some movie music. Enjoy the online version of this 'sterling' concert!

More Info
Sunday Sermon
"9 Words": The Rev. Jason Meyers
Met Pride
Brave (Sara Bareilles)
The Metropolitan Choir
Awake, Timid Soul (Murray/Orr)
Children & Youth Ministry
Online Programs for Kids
Come out to Zoom Sunday School at 10:30am each week! Then on Thursdays, join Alana for a Kids Bedtime Story; a short, informal time to read a story together to wind down for the night. And keep an eye out for Family, Faith & Fun Friday Nights at the end of the month.
Met's Children's and Youth Ministries are led by The Rev. Alana Martin.
Zoom Sunday School
Kids Bedtime Story with Alana
Stay up to date with the Met Connect newsletter
Weekly worship, event & programming news
News
The latest from 56 Queen Street East.
The Rev. Jason Meyers: Minister of Worship and Faith Formation
A Message to the Congregation
We are pleased to announce The Rev. Jason Meyers as our Minister of Worship and Faith Formation. A Covenanting service took place on October 24, 2021 after Jason formally entered the role on September 1. Thank you to the Search Committee for their dedicated work over these last two years. We look forward to bringing our best to ministry with you, Rev. Meyers.
Please watch Jason's message from our service on September 12.
Download the Met App!
Available on Apple & Android devices
"There's an app for that!" You can follow our programming, watch the service, register for events and much more through our church app. Use your phone or tablet to download the app through the link below, or learn more on our news page. See you there!
More Info
Download App