Worship this Sunday: October 31 at 11am
Livestream or register to attend
All Saints/Anniverary Sunday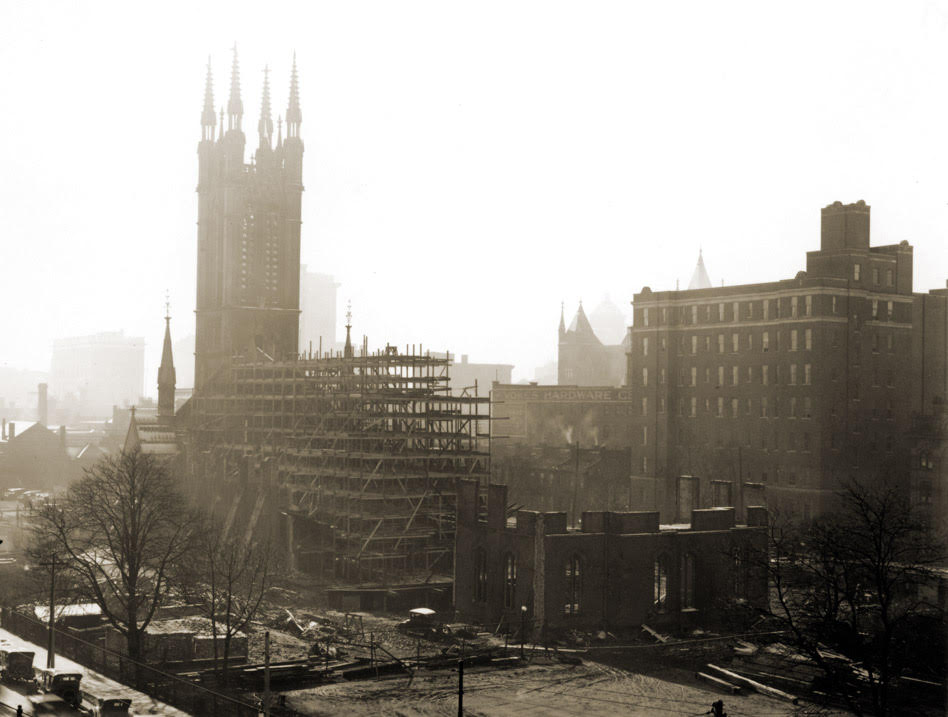 When we build, let it be such a work as our descendants will thank us for, and let us think, as we lay stone on stone, that a time is to come with these stones will be held sacred because our hands have touched them.
- Message printed in the Feb. 5, 1928 Order of Service, one week after fire devastated most of the church building.
More Info/Register to Attend
Phantoms of the Organ
Friday at 8PM Livestream and In-Person
Join us in person or online for the return of this spooky tradition live at Met featuring some of Toronto's finest young organists! HD stream available at metunited.ca/live
A co-production with the Royal Canadian College of Organists, Toronto Centre. Donations, which benefit RCCO Toronto's ongoing promotion of the pipe organ in Toronto, are welcome and can be made here.
Register to Attend
Watch the Concert
Music at Met
Concerts This Fall
Phantoms of the Organ returns on Oct. 29, live from the sanctuary!
Friday Noon at Met recitals resume bi-weekly on Nov. 5...
And the one night only musical theatre revue, All Together Now! takes the stage on Friday Nov. 12. Belt out the best of Broadway from home with our special livestream broadcast, or visit us for an epic night of theatre music at Met. Tickets available now.
Music at Met Concerts
The Rev. Jason Meyers: Minister of Worship and Faith Formation
A Message to the Congregation
We are pleased to announce The Rev. Jason Meyers as our Minister of Worship and Faith Formation. A Covenanting service took place on October 24, 2021 after Jason formally entered the role on September 1. Thank you to the Search Committee for their dedicated work over these last two years. We look forward to bringing our best to ministry with you, Rev. Meyers.
Please watch Jason's message from our service on September 12.
This Fall at Met
In-Person & Online Worship
Please register to attend worship service held Sundays at 11am, or join the livestream from the Sanctuary begining at 10:45am on YouTube and at metunited.ca/live. We also have a variety of concerts for you to enjoy this fall, online or in-person. We hope you choose to visit Met soon, whether inside, outside or virtually.
Met has instituted a proof of vaccination policy for all volunteers, staff and contractors visiting the church. Effective November 1, attendees of in-person worship must also provide proof of vaccation. More info here.
Our ministry continues during these pandemic times. We are grateful for your support - you may choose to donate at metunited.ca/donate, mail an envelope or cheque to the church, or give by etransfer (donations@metunited.ca). Thank you!
Register to Attend
Covid Update
Met Pride
Brave (Sara Bareilles)
Stay up to date with MET Connect
Weekly worship, event & programming news