The Rev. Jason Francis Meyers
Minister for Worship and Faith Formation
The Reverend Jason Francis Meyers is Metropolitan's Minister for Worship and Faith Formation. He hails from Saskatchewan where he completed an undergraduate degree in Commerce with a major in Marketing. A move to Toronto brought a change in vocation and he began his journey to ordination in the United Church of Canada in 2012. Jason completed his Master of Divinity from Emmanuel College in 2019 where he was awarded the Dr. Hugh Pritchard Memorial Preaching Scholarship and the Sanford Gold Medal for academic excellence. He did his field education here at Metropolitan and his internship at Jubilee United Church in Don Mills. Jason's spirituality is intertwined with the care of creation and the experience of being on the land. He has embarked on pilgrimages in Spain, England and Canada, including a two week journey from his convocation to ordination. Jason and his wife, Bri-anne Swan, have two young boys, Isaiah and Simon.
Contact Jason
The Rev. James Harbell
Minister of Congregational Care and Outreach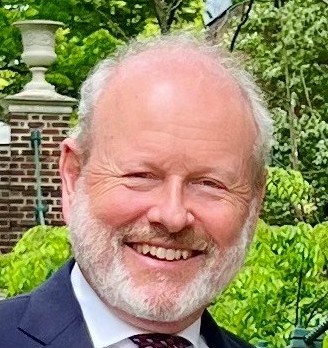 The Reverend James Harbell joined the Met team as the Minister of Congregational Care and Outreach following his ordination on May 28, 2023. Ministry is his second career. He graduated from Osgoode Hall Law School in the early 80s and was a partner at a national law firm working in real estate development, energy and environmental law, with a particular interest in housing.
He graduated from Emmanuel College at the University of Toronto with his Masters of Pastoral Studies 2020 having completed placements at Scarborough Health Network and the Centre for Addiction and Mental Health. He completed his Masters in Divinity at Emmanuel in 2022 while continuing to work at Scarborough Health Network.Through this work and his experience, his approach to ministry has become focussed on pastoral care and social justice/outreach. Prior to Met, Jim was at a two-point Montague Pastoral Charge in PEI, where his ministry included pastoral support following the impact of Hurricane Fiona.
He is interested in prison ministry and is the founding president of Restorative Justice Housing Ontario, a new registered charity set up to provide safe, affordable and secure housing, together with community support, for people leaving prison. As well, Jim serves as a Director of the United Property Resource Corporation (now known as Kindred Works), founded by the United Church of Canada to bring professional real estate knowledge to communities of faith and to develop United Church properties for housing. He and his wife Pat McQuaid have four adult children and delight in spending time at their place in Prince Edward Island.
Contact Jim
Dr. Jonathan Oldengarm
Minister of Music
Dr. Jonathan Oldengarm is Metropolitan's Minister of Music. He oversees the church's diverse musical outreach, which includes the adult, children's, and handbell choirs, the Great Heart youth ensemble, and the Metropolitan Silver Band. He is also responsible for maintaining and programming the church's treasury of instruments, including the landmark 1930 Casavant pipe organ and 1922 carillon, the positive organ, and the church's various pianos.
Jonathan has a passion for uniting Word and music in ministry, and for helping musicians of all levels reach their full potential within worship. He maintains an active solo performance, broadcast and recording schedule, and is a laureate of several international competitions.
Jonathan holds a doctorate in organ performance from McGill University; the Fellowship diploma of the Royal Canadian College of Organists; and studied at the Hochschule für Musik in Stuttgart, Germany. From 2008 until 2022 he taught organ, harpsichord, keyboard skills, and liturgical improvisation at the Schulich School of Music of McGill University, while serving as Director of Music and Organist at the Church of St. Andrew and St. Paul, Montreal. Jonathan began as Minister of Music at Metropolitan in August 2022, succeeding Dr. Patricia Wright, Dr. Melville Cook, and a long line of other distinguished Canadian church musicians.
Contact Jonathan