Communications Specialist Charles Davidson sheds light on the process of creating a virtual anthem for worship and concerts at Met.
In the Beginning
How it All Started
April 2020 ushered Met into the world of putting together music 'virtually' - to be more precise, assembling musical elements performed remotely. Starting with hymns, we provided singers with a musical track of Dr. Patricia Wright leading on the piano from home, then the organ, and evolved from there. Leading hymns as a soloist is an altogether different experience with unique requirements, and our lead singers adjusted to the required musical changes, remote singing (everyone feels naked), and performing for the screen.
We then took a look at other churches and choirs - YouTube and blogs were a great guide, quickly populated with how-to's as virtual choirs went viral and made the rounds in media. Our first multi-singer piece was John Rutter's For the Beauty of the Earth, with Gisele and Valeria, followed up with a quartet of If Ye Love Me by Thomas Tallis. Then it was off to the races... for Pride Sunday we debuted Met's first music video, Born This Way, inspired by the one and only Lady Gaga. Incidentally, that was the weekend an external hard drive bit the dust, and Ben Stein and myself stayed overnight at church, basically starting the work from scratch! It was down to the wire, and certainly a surreal experience. Starbucks, Chinese food and a McDonalds breakfast may or may not have been helpful!
Pictured: Ben and Charlie begin sleep deprivation in June; the Tallis quartet; Dr. Patricia Wright accompanying from home with Valeria leading on the hymns.
Phase One
Bring Us Your Tracks!
With Born This Way, we had the versatile Benjamin Stein 'lay down' several tracks on guitar, piano and bass, serving as a bedrock to inspire confidence for those at home to heartily sing with. Singers listen to the track in one ear, connected wirelessly or by earbuds to one device, while recording themselves with another. You also have to decide where to place your music (iPads help!) and hopefully have an eye on the conducting in the track you are following... it's a lot to juggle!
The Track phase involves sending out an accompaniment track(s) and receiving files back, placed on Google Drive or Dropbox, or delivered through a website like WeTransfer. Sometimes compability issues come into play, and technical (not to mention musical) instructions are necessary to achieve a consistent look and sound. E.g. Show your head and shoulders; Please do not make loud noises with pages as you sing, as we cannot correct this; Is your fridge buzzing? Should we wear white for this anthem? etc.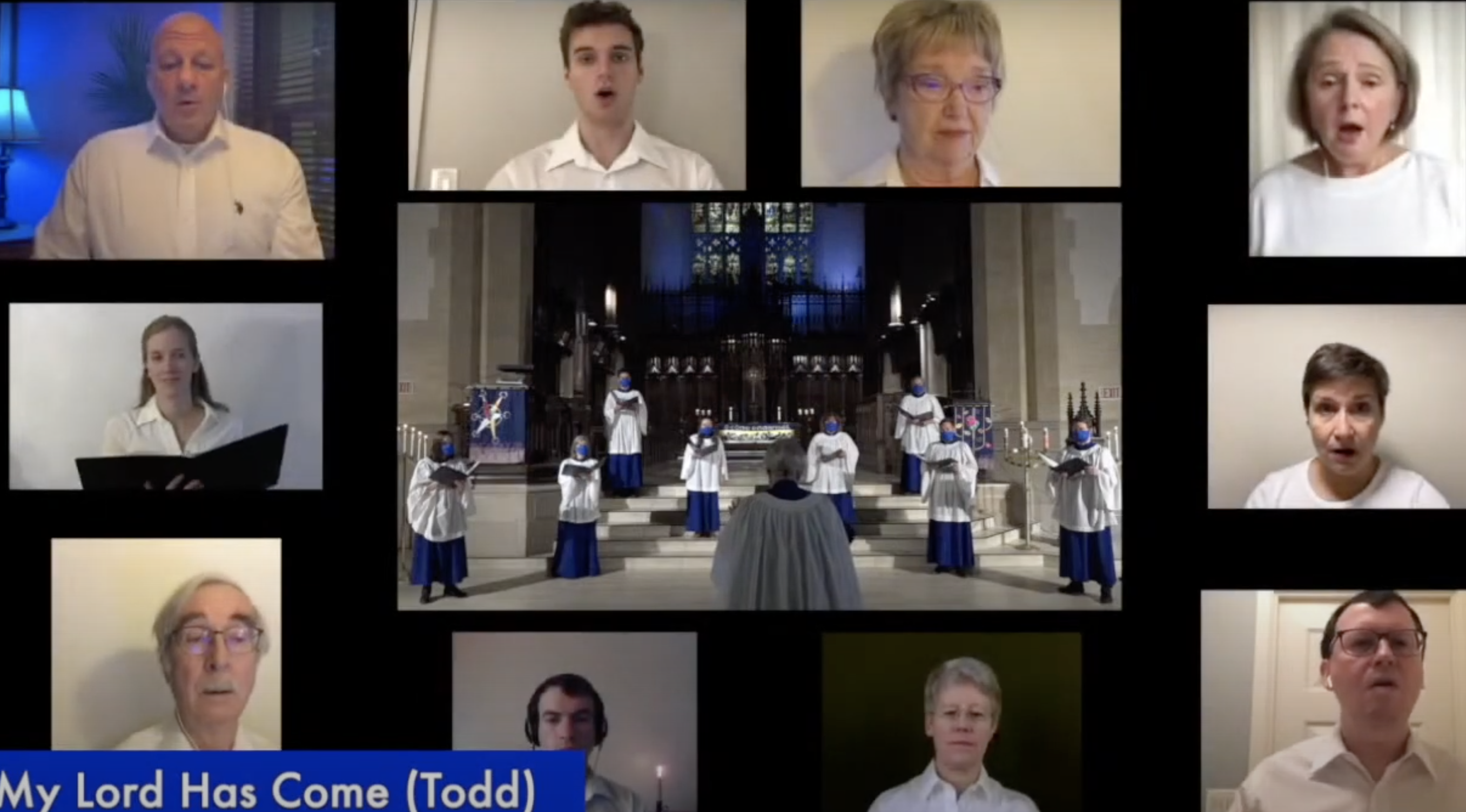 For larger Choir anthems, we hold a Zoom rehearsal/instructional session - we know that the major reason for this complicated process is that we cannot record in real time together on Zoom and other programs due to audio lag. Strides are happening with technology, but there is no solution yet for multiple singers to hear each other and seamlessly sync in real time. So, mute your mic, and go to it! During rehearsal the singers play their track at home, sing along and then ask Dr. Wright any questions.
After home practice and recording, singer tracks are delivered by deadline and downloaded by Charlie, audio separated from the video, and both files brought into respective software programs.
Pictured: alto audio tracks for the full choir version of If Ye Love Me; Choristers at home matching in white for And He Shall Come: Music & Poetry for Advent
Phase Two
Video Editing
We currently use Final Cut Pro for video assembly. Even with audio separated you must still manually line up each file to the millisecond so that individual mouths, and conducting, match!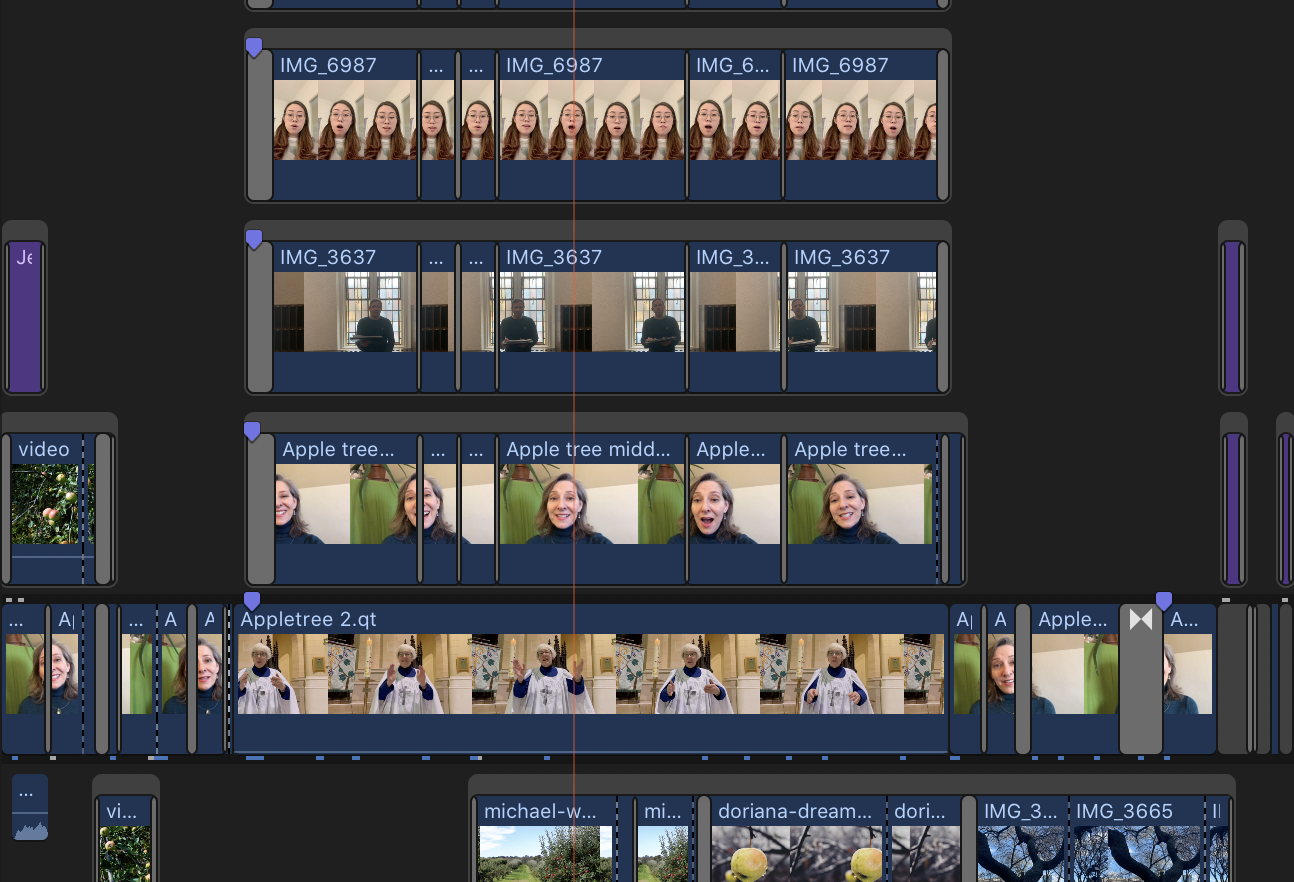 A few video facts:
- A background grid helps to arrange singers faster when it's a large group: e.g. 4 rows of 7 boxes each = 28 performers... that's why it's important to know your numbers, and avoid last-minute stragglers!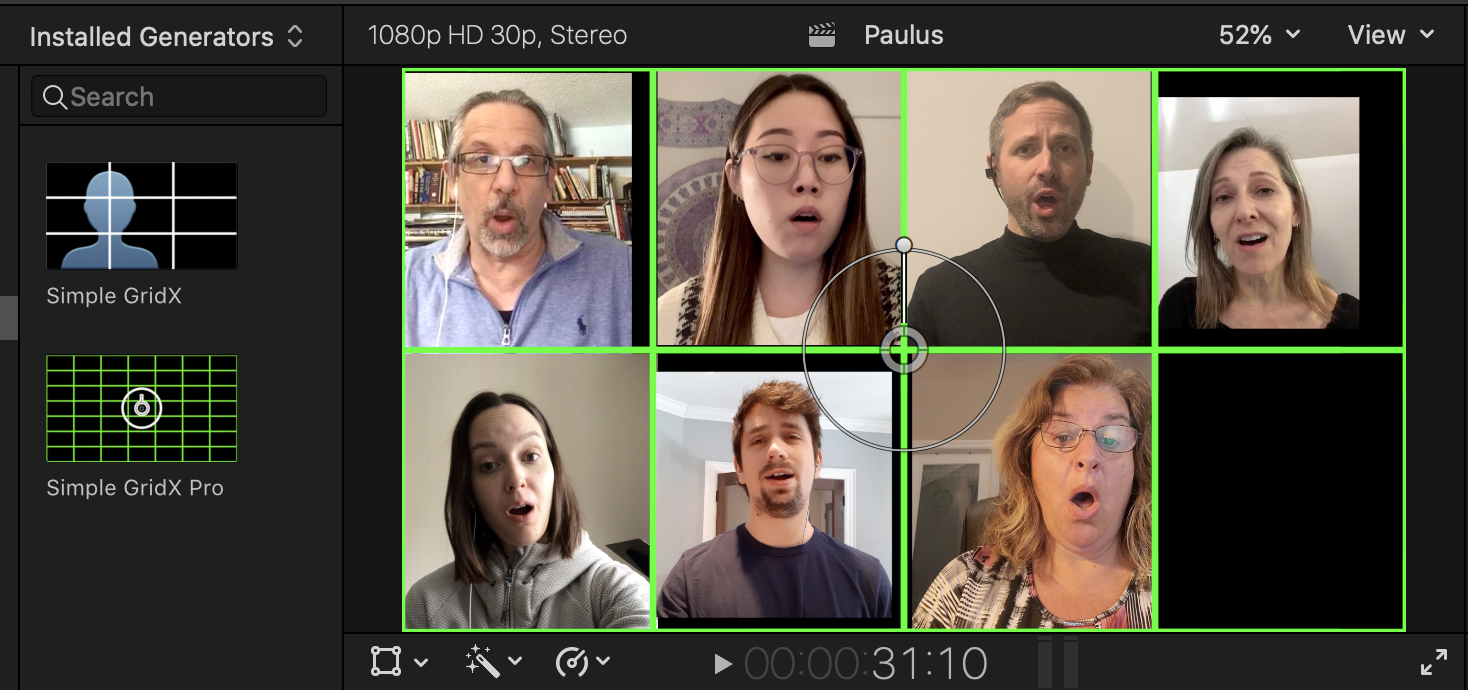 - Part of the fun, especially with non-traditonal pieces is adding effects and different fades, or moving singers to different parts of the screen. Usually it comes down to time: a 4 part anthem involving more than 20 singers might take 25-30 hours to complete from start to finish, if it was visually involved. A quartet or double quartet with stationary faces, perhaps 10-15. The more practice, the shorter it takes! Like anything else, stepping away from the software for even a few weeks makes you rusty.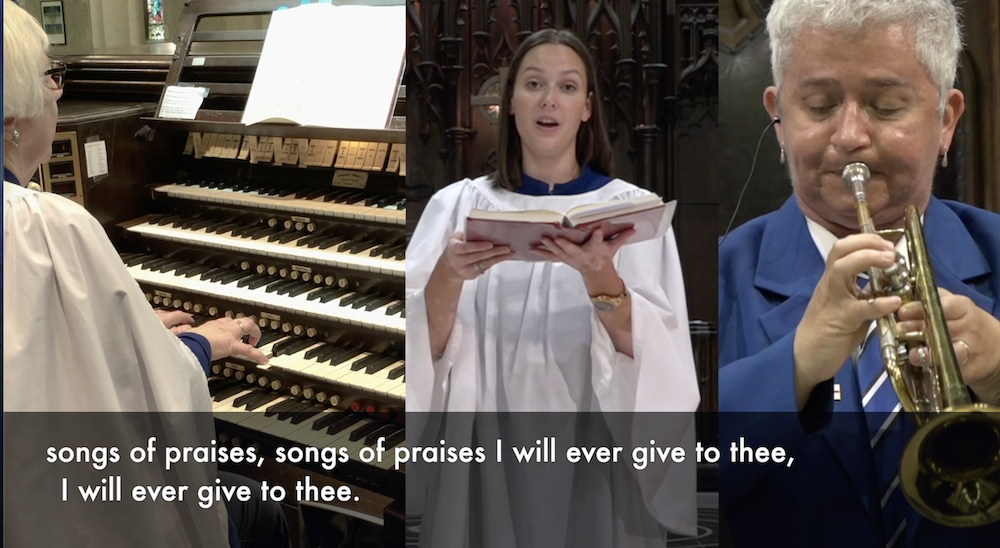 - Video and still image backgrounds can be placed if you're feeling artistic, and don't forget titles!
Pictured: Video tracks lined up for Jesus Christ the Appletree; the amazing Debbie Silverthorne recorded trumpet separately for hymns on Gathering Sunday, when we were still creating a separate recorded service upon re-opening at the end of August.
Phase Three
Audio Glad You Learned Editing
People have their own styles, but I like to go back and forth between designing the video, which is more creative, and mixing/editing the audio in GarageBand, more akin to the term one conductor used for the process of preparing his choir for Handel's Messiah each year - 'plaque removal'.
Some audio tidbits:
- Loud breaths are sometimes removed and ends of phrases matched. That said, we allow that choirs accept some individuality in the mix, so it's a case by case basis as the work is shaped.
- In a large group, I use a foundation voice within each section to match additional voices to. These foundational voices must also match the others in the lead quartet. You are constantly muting and unmuting tracks while adjusting individual, section and overall balance, relation to the accompaniment, varied entries etc. Listen closely for any tuning or pitch issues that will stand out. Sometimes it's easiest to shut your eyes and pick out what jars. It helps to know your voices, habits and the music itself!

- Every singer has their own sense of the beat, and may also speed up or slow down within a phrase, but this doesn't happen often as we layer tracks as we go, and keep sending out a new file. It's possible to cut within the track and move certain phrases back and forward by the millisecond, but this is time-consuming.
- A little bit of a reverberation setting goes a long way in smoothing out edges and creating a blend that we normally form in person. This is where one must remove their musical perfectionism hat and accept the given situation; if there is musicality within the track, this does a lot of the work for you. It's helpful that we choose works very familiar to the choir - they know the style, markings etc. that Pat prefers. It's a memory test!
Pictured: GarageBand audio tracks reflecting that lead singers recorded within Metropolitan for our Christmas concert, And He Shall Come, with additional Choir members layered onto the audio and video afterwards.
Phase Four
Finish It!
Now that audio and video sides have been completed, an MP3 file of the anthem is exported and brought into Final Cut Pro. Delete any audio remaining in that program, line it all up, and voila! Pray that the computer gods allow the entire project to now be fully processed!
Pictured: A complete mp3 audio file of the anthem at bottom in our video editing program, with Pat's accompaniment track left to be muted.
Mission Complete
Partake of a beverage - You have earned it.
One of the silver linings of the Covid ordeal has been learning new skills while starting to bring Met's high standard of music more fully into the digital terrain. On a personal note, though it was always down to the wire creating hymns and anthems in spring and summer of 2020, it was simultaneously a form of therapy having this totally different musical outlet available to me during lockdown, finding expression through technology. There were many beautiful musical moments that made me tear up, late on a Saturday night, and knowing they would certainly bring joy to others as well was a motivation to push forward. A huge responsiblity, but also an affirming challenge. Thanks for reading!
- Charlie