Palm Sunday: Sixth Sunday of Lent
For the 11:00 a.m. service on Sunday, The Rev. Karen Bowles is calling her sermon "Love is/is not a victory march." "What do you think of when you hear the final line of the prayer Jesus taught his followers: 'For thine is the kingdom, the power and the glory, for ever and ever'? We will consider this on Sunday after we have entered Jerusalem with Jesus, waved our palms, and spread our cloaks before him. Accompanied by trouble and beauty, we will celebrate what should be, tempered with the tension of what is to come, as we ride into Holy Week."
For the organ prelude, Dr. Patricia Wright will play two settings (Johann Sebastian Bach and Gilles Leclerc ) of Farewell, I Now Must Leave You (melody of Hymn No.122), and two (Johannes Brahms and Helmut Walcha) of Ah, Holy Jesus (Hymn No.138). For the organ postlude, she will play O World, I Now Must Leave You by Johannes Brahms. The Metropolitan Choir will sing "Alleluia" from Brazilian Psalm by Jean Berger and Es ist nun aus mit meinem Leben (Now my life is ended) by Johann Christoph Bach. At the Offertory, baritone Nicholas Higgs will sing Es ist vollbracht (It is ended) from the St. John Passion by J. S. Bach. The hymns are No.122 (All Glory, Laud, and Honour), No.123 (Hosanna, Loud Hosanna), and No.127 (Ride On, Ride On, in Majesty) to the melody Stuttgart (No.2). Sunday's carillon prelude will be played by Mateusz Olechnowicz and Naoko Tsujita, student carillonneurs from the University of Toronto.
The Bible readings are Psalm 118:1-2, 19-29 (thanksgiving for deliverance from enemies); Philippians 2:5-11 (imitating Christ's humility); and Luke 19:28-40 (Jesus' triumphal entry into Jerusalem).
Do you know this Sunday we welcome The Rev. Karen J. Bowles as Metropolitan's intentional interim minister? She has served at Rosedale United Church since 2006 but comes home to Met, where she gave her first sermon and completed her field education while studying at Emmanuel College in 2005.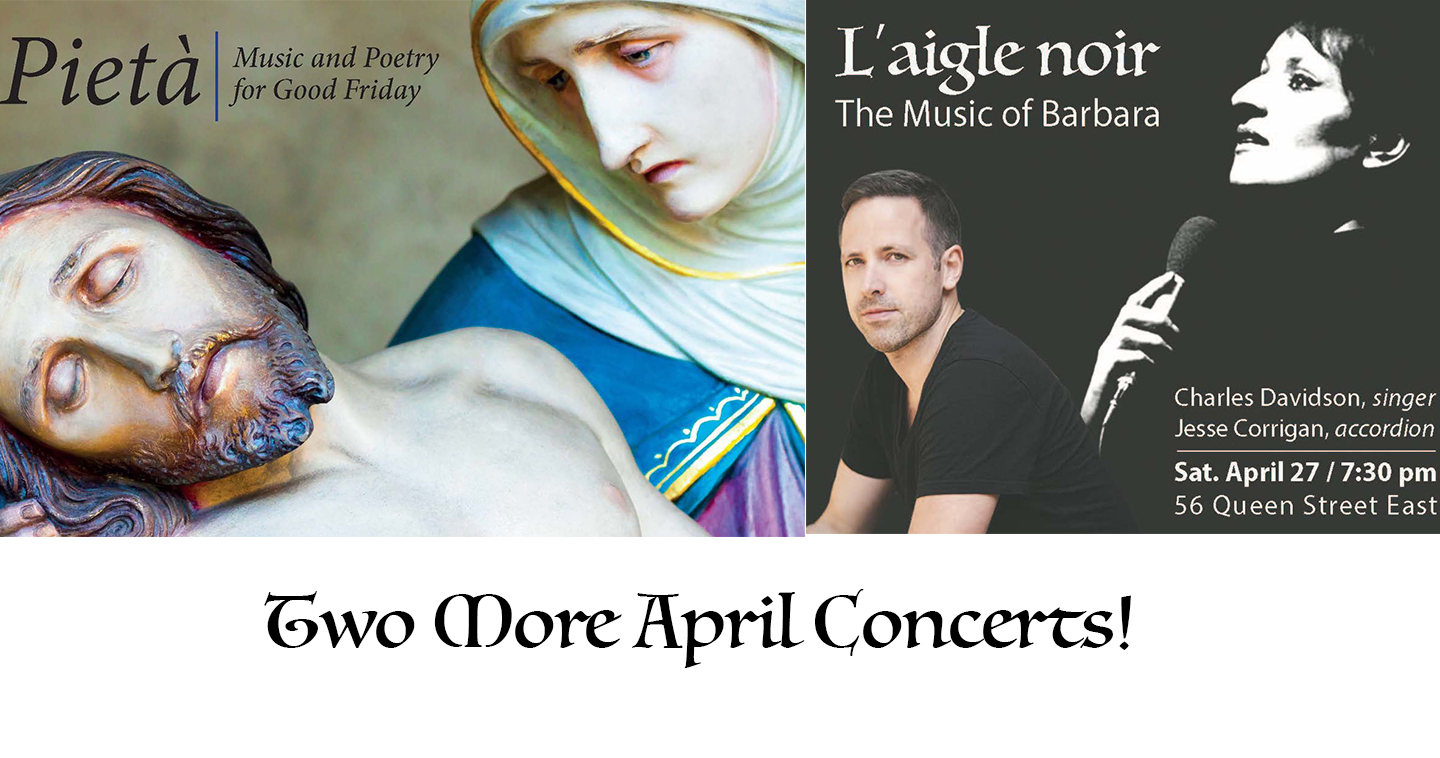 On April 19 at 7:30 p.m., reflect with the music and poetry of Pieta: Music and Poetry for Good Friday. Our extended Metropolitan Festival Choir has been rehearsing for five weeks, refining their Russian for excerpts of the Rachmaninoff Vespers. Choral music of Johann Christoph Bach, Johann Michael Bach, Dieterich Buxtehude, John Tavener, Sergei Rachmaninoff, and others will be featured. Preview an excerpt of Patricia Orr's poem, "Do You Hear the Singing?" accompanied by Busch's "It is a Thing Most Wonderful," here. Tickets can be purchased after the service Sunday, online or at the door on the night of the concert.
The Saturday following Easter, tenor Charles Davidson presents 'L'aigle noir': The Music of Barbara. This concert featuring accordion accompaniment was first presented as part of Jewish Music Week in Toronto in 2016 (hear clip). Barbara (Monique Andree Serf) and her family were forced into hiding during WWII; her song "Gottingen" was an aid during reconciliation, a "song that changed the world." Unfailingly dressed in black, this evocative singer was truly the 'black eagle', capturing the hearts of France and beyond with poignant songs speaking to the human condition.