Fifth Sunday of Easter
For the 11:00 a.m. service on Sunday, The Rev. Karen Bowles is calling her sermon "Love Actually." "The disciples are given their marching order by Jesus—in theory, succinct, short, and simple. In practice, a different story."
For the organ prelude, the Wayne C. Vance Organ Scholar Michael Oldaker will play Concerto IV (Adagio, Allegro, Adagio) after Tagliette by Johann Walther, and Three Short Hymn Settings by Gerald Bales. Junior Organ Scholar Timothy Wisnicki will play the organ postlude Paean by Kenneth Leighton. The Metropolitan Choir will sing Praise God attributed to Samuel Stanley, and River of Dreams by Joe Sealy and Dan Hill. At the Offertory, soprano Gisele Kulak and mezzo-soprano Valeria Kondrashov will sing "Wir Eilen" (We hasten with eager footsteps) from Cantata No.78 by J. S. Bach. The hymns are No.512 (Lord, You Give the Great Commission), No.372 (Though I May Speak), and No.678 (For the Healing of the Nations). The final piece in the carillon prelude played by Roy Lee will be "Wondrous Love" from Southern Harmony, setting by Ellen Dickinson.
The Bible readings are Acts 11:1-18 (Peter's report to the church at Jerusalem), Revelation 21:1-6 (the new heaven and the new earth), and John 13:31-35 (the new commandment).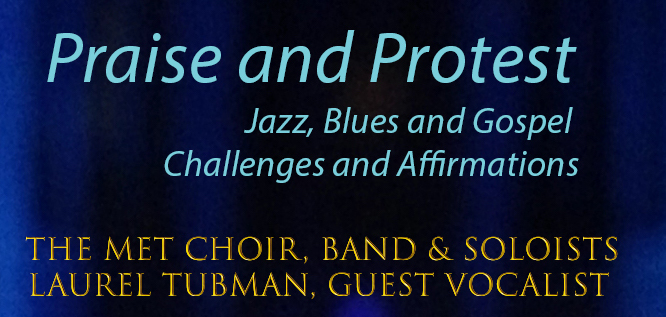 Raise the roof at Praise and Protest on Saturday, May 25 at 7:30 p.m during Doors Open Toronto. This energetic concert with the Met Choir, guest/lead soloists and band combines songs from different musical traditions - gospel, rock, blues - that give praise but also ask searching and difficult questions about faith and social justice. Music by Stevie Wonder, Elton John, Sam Cooke and Van Morrison. Canadian songs by Joe Sealy, David Sereda, Richard Desjardins and Benjamin Stein.