Fifth Sunday of Lent
For the 11:00 a.m. service on Sunday, our guest preacher the Rev. Pamela Bauer will speak on "The Secret to an Uninhibited Life."
For the organ prelude, Junior Organ Scholar Timothy Wisnicki will play Partita on "O How Fleeting" by Georg Böhm, O World, I Now Must Leave You by Johannes Brahms, and chorale preludes on O Lamb of God and I Call to You by J. S. Bach. For the postlude, Minister of Music Dr. Patricia Wright will play My Lord, What a Morning, a spiritual arranged by Raymond H. Haan. The Metropolitan Choir will sing Miserere (Have mercy on me) by Gregorio Allegri and It Is a Thing Most Wonderful by Richard Busch. At the Offertory, mezzo-soprano Valeria Kondrashov will sing "Cum Dederit" (For He brings rest) from Nisi Dominus by Antonio Vivaldi. The hymns are No.271 (There's a Wideness in God's Mercy), No.119 (When We are Tempted to Deny Your Son), and No. 623 (Dear Weaver of Our Lives' Design). We also will be celebrating the Sacrament of Baptism. The final piece in the carillon prelude played by Roy Lee will be Chorale Partita on "O How Fleeting", by John Knox.
The Bible readings are Isaiah 43:16-21 (a new exodus from Babylon), Philippians 3:4b-14 (breaking with the past), and John 12:1-8 (Mary anoints Jesus).
Did you know that the Rev. Pamela Bauer is a spiritual care practitioner and registered psychotherapist? She moved from Nova Scotia to Ontario in 1994 in order to live out her calling as a minister. She was ordained in the Wesleyan Methodist church in 1996 and has served as pastor in several churches over the years. In 2010, during, what she calls her great awakening or midlife crisis, she felt prompted to move from parish ministry to hospital ministry.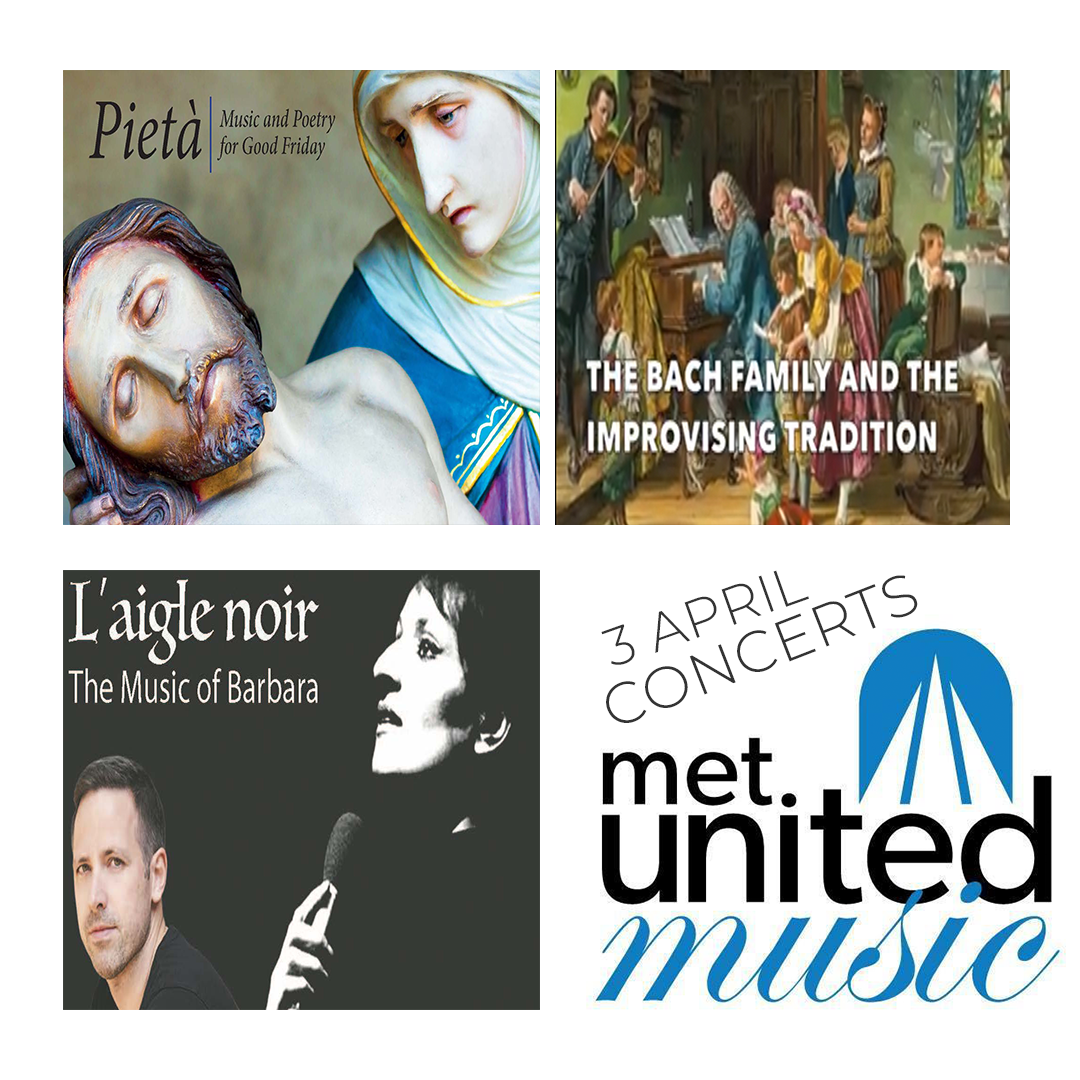 Music at Met magic this April!
There are three concerts to enjoy this April at Met, beginning this Saturday with The Bach Family and the Improvising Tradition! Picture Bach family members 'jamming' at a wedding with both musical skill and abandon, and you're on the right track!
That's followed up by our traditional Good Friday concert, 'Pieta', and 'L'aigle Noir', a French cabaret, on April 27.
APRIL TRUTH! Enjoy all three concerts for $50, a savings of 15% (available online)
Book now at www.metunited.org/events