Third Sunday in Lent
For the 11:00 a.m. service on Sunday, The Rev. Dr. Paul Scott Wilson is the guest preacher and his sermon is entitled "Saying a Good Word for Sin." As he says, this is "saying a good word for the idea of sin, not for sinning itself."
For the organ prelude, the Wayne C. Vance Organ Scholar Michael Oldaker will play "Our Father, Who Art in Heaven" and "Largo" from Sonata V in C Major by J. S. Bach, and for the postlude, the Toccata in D Minor ("Dorian"). The Metropolitan Choir will sing Sicut Cervus (As the deer longs for the water...) by G. P. da Palestrina. A solo quartet will sing "O Come Everyone That Thirsteth" from Elijah by Felix Mendelssohn. At the Offertory, the Metropolitan Handbell Choir will play Steal Away, a Spiritual arranged by Sandra Eithun. The hymns are No.660 (How Firm a Foundation); a new hymn composed by Matthew Boudta, a Master of Sacred Music organ student of Dr. Patricia Wright (Seek Us and Find Us); and No.266 (Amazing Grace). Sunday's carillon prelude will be played by Mateusz Olechnowicz, U. of T. student carillonneur. The last piece of the prelude will be Passacaglia on Herzlich tut mich verlangen, by Don Cook.
The Bible readings are Isaiah 55:1-9 (promise of assurance to Jerusalem), Psalm 63:1-8 (comfort and assurance in God's presence), and Luke 13:1-9 (repent or perish).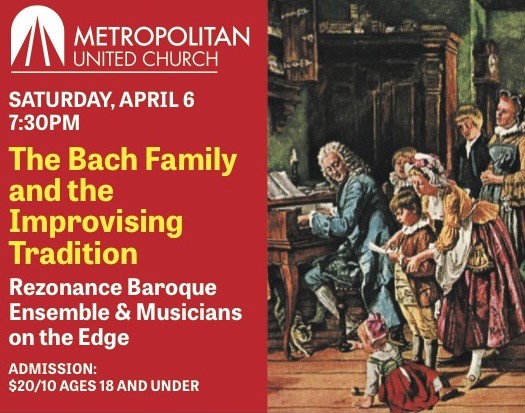 The Bach Family and the Improvising
Tradition
Saturday, April 6 at 7:30pm Picture Bach family members 'jamming' at a wedding with both musical skill and abandon, and you're on the right track! Rezonance Baroque Ensemble and Musicians on the Edge present a mixture of classical baroque interpretations, together with the quodlibet, or 'whatever you please' style, offering structured improvisations and variations on famous melodies of the time. Includes Bach's Cello Suite in G major, for solo theorbo.
THIS APRIL: Enjoy 3 Music at Met concerts for $50, with a savings of 15% (online only). Includes The Bach Family and the Improvising Tradition, Pieta: Music and Poetry for Good Friday on April 19, and 'L'aigle Noir': The Music of Barbara on April 27.
Book now at www.metunited.org/tickets