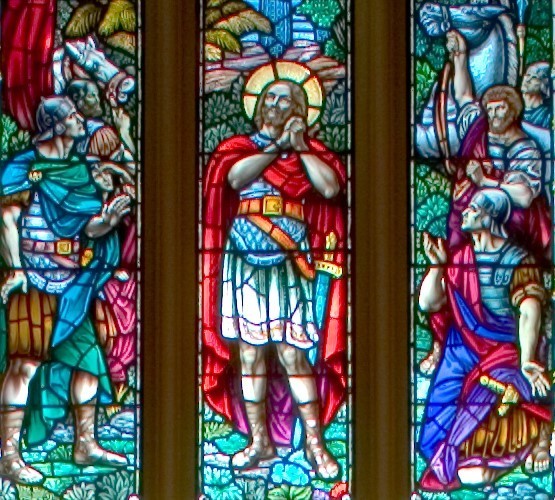 Transfiguration Sunday
For the 11:00 a.m. service on Sunday, The Rev. Kerri Hagerman is calling her sermon "Glimpses of Glory." Rev. Kerri Hagerman was ordained in 2003 and has served congregations outside of Winnipeg and in Brampton. In 2012 she received a Master of Theology in Pastoral Studies with a focus on the study of preaching with Prof. Paul Wilson at Emmanuel College in Toronto. Currently, she works at the Peel District School Board as a Resource Teacher supporting Guidance and Career Education through the promotion of apprenticeship in the skilled trades. She and her two children, ages 16 and 19, attend Kingsway-Lambton United Church in Etobicoke.
For the organ prelude, Dr. Patricia Wright will play three of the Five Liturgical Inventions for Organ by Victor Togni and All Glory Be to God on High by Johann Sebastian Bach. The postlude will be Alleluias from the Five Liturgical Inventions for Organ. The Metropolitan Choristers will sing Dark World which was composed by a group of them under the direction of Benjamin Stein for the summer K@MP program in 2018. The Metropolitan Choir will sing O Nata Lux by Thomas Tallis and Anthem for Transfiguration by Paul W. Hofreiter. At the Offertory, Benjamin Stein will play the lute and sing Currite, Currite (Run, people, sing Hallelujah) by Claudio Monteverdi. The hymns are No.104 (We Have Come at Christ's Own Bidding), No.102 (Jesus on the Mountain Peak), and No.103 (How Good, Lord, To Be Here).The final piece in the carillon prelude played by Roy Lee will be How Good, Lord, To Be Here (Carlisle), setting by Beverly Buchanan.
The Bible readings are Exodus 34:29-35 (the shining face of Moses), Psalm 99 (Praise to God for His Holiness), and Luke 9:28-36 (The Transfiguration).
Special request. Our Carillonneur Emeritus, James (Bud) Slater, died on Sunday, February 17. He served as our carillonneur for 35 years. His family has asked that gifts in his memory be designated to Our Third Century Campaign and specifically for the carillon. Repairs and restoration that Bud had fervently desired for years are now in the final planning stages and should begin this summer.
Pergolesi's Stabat Mater and Neapolitan Masters
Sublime sacred music to start off Lent - join soprano Ariel Harwood-Jones and Met's own mezzo Valeria Kondrashov, together with members of Musicians on the Edge & Rezonance Baroque Ensemble, for one of Pergolesi's most treasured sacred works. Also featuring Leonardo Leo's Cello Concerto in D major with Erika Nielsen, and selections by Mezzorgori, Pergolesi, Monteverdi and Treviso.
Book now at www.metunited.org/events