Register to Attend Worship
Please register to attend worship in-person - links to register are posted on this page and through our weekly newsletter, Met Connect.
Special note: as of November 1, 2021, a proof of vaccination policy will be in effect for worship - learn more here.
The service is also livestreamed in HD at metunited.ca/live, YouTube, and Facebook.
If you have any of the following new, different (than an existing health condition) or worsening symptoms or signs on Sunday morning, you must stay home. Self-isolate and get tested, or contact a health provider.
Fever or chills
Cough
Trouble breathing
Decrease or loss of smell or taste
Nausea, vomiting or diarrhea
Very tired, sore muscles or joints
Please do not enter the church if you have a temperature, feel ill, are quarantined due to travel reasons, or have been in contact with a COVID-19 positive individual over the past two weeks.
Please take time to review the following guidelines around in-person worship as we work together to keep each other safe. Taking the time to register allows us to plan ahead and keep each other safe - thank you!
Covenanting Sunday/Twenty-Second after Pentecost: October 24
Twenty-Third Sunday after Pentecost: October 31
In order to maintain physical distancing in the church, we have a limited number of "seats" available for worship. To secure your seat, you will need to register online at metunited.ca. If you do not have access to online registration, please call the church office at 416-363-0331. Registration will open well in advance and will close the morning of the service. If you are not feeling well on Sunday mornings, or if you have been asked to quarantine by a health professional, it is very important that you do not come to worship.
The front doors will open at 10:30am, and we ask that you arrive by 10:50am. Following the City of Toronto bylaw, masks or face coverings that cover your nose, mouth and chin must be worn in the church building at all times. If you do not have a mask we can provide you with one. If you cannot wear a mask for medical reasons, please call 416-363-0331 prior to your arrival. As you walk in the church building, there will be a table set up in the narthex for a health screening and to sign you in. You will also be offered some hand sanitizer at this time.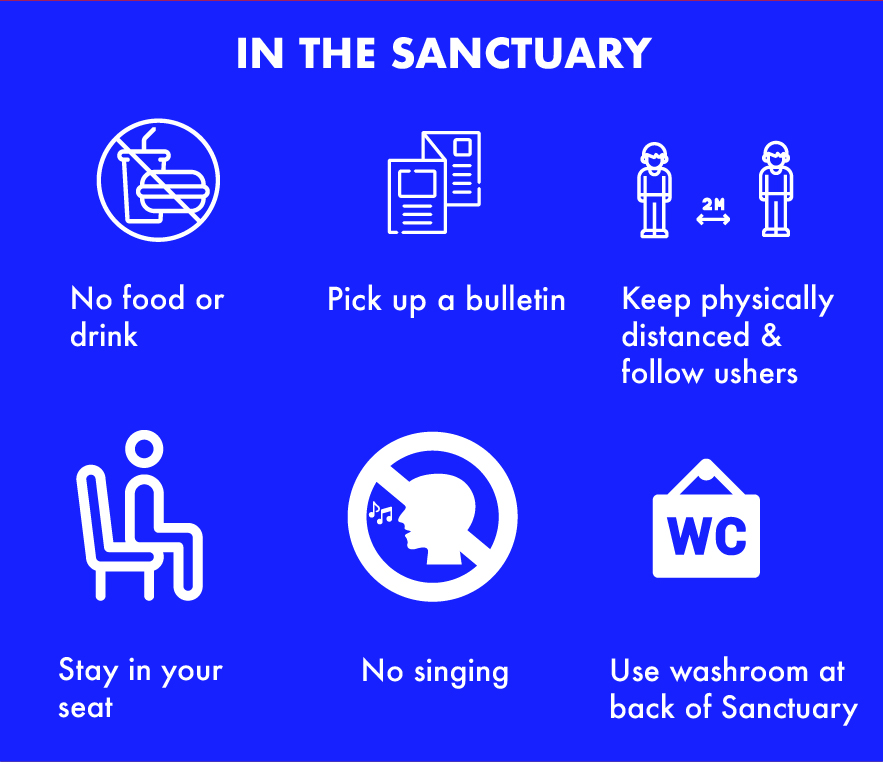 As you enter the sanctuary, there will be bulletins and donation envelopes for you to pick up. We ask that you keep physically distanced 2 metres and sit only in sections indicated with green tape. There will be ushers offering direction and available to help should you need it. Please note that you may not be able to sit in your regular pew!

We are not allowing any food or drink in the sanctuary, so please bring your own water along. Once you are seated, we ask that you not walk around to visit with other congregation members. There is a washroom available at the back of the sanctuary that will be stocked with disinfectant wipes so you can clean surfaces before you leave. And now the really challenging one... we ask that you not sing during the service. Or to put a positive spin on it, "sing with your inner voice."
Once the service is over we ask that you continue to physically distance 2 metres as you leave the sanctuary and not socialize in the building. Offering plates and recycle bins for your bulletins will be set out near the exits.
We know things will look and feel different during this phase of reopening, but by following the protocols recommended by our health professionals, we are doing all we can to ensure that worship at Met is a positive and safe experience for all.
Special note: in line with guidelines set out by Toronto Public Health, every reasonable precaution has been and will continue to be taken by Metropolitan United Church to protect your health and wellbeing. There can be no guarantees of complete protection, however, due to the higher risks of contracting viral infection through larger gatherings.
Please do not enter the church if you have a temperature, feel ill, are quarantined due to travel reasons, or have been in contact with a COVID-19 positive individual over the past two weeks.